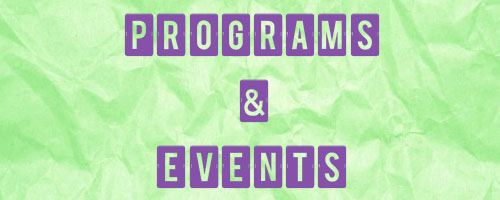 For all upcoming kids' programs, please take a look at our downloadable/printable calendars!
Youth Crafts 
 Stop in the Activity Room anytime between 4 and 5 to make a craft! Children under 7 must be accompanied by an adult. Please see calendar for specific dates.
Storytimes
Please see our Storytime page for details on our weekly storytimes for Preschool and Toddler age children! 
Other Upcoming Programs
PJ Time (Rescheduled)
This sleepy storytime on Monday, March 9th at 7:00pm
in the Activity Room will include books about going to bed!
PJs are optional, but a cozy fit!
Children from ages 2-6 years, their caregivers,
blankies, and stuffed animals are welcome to this event.
 Life-Size Candy Land
Come and play a life-size version of Candy Land on
March 19th from 2:00-4:00pm
upstairs in room 202.
We recommend coming in groups of 2 - 4 to make the game as much fun as possible.
This event is open to all ages, but children under 7 must be with an adult.
No rounds will start after 3:45pm!
Tolkien Reading Day
March 25th is the day to read The Hobbit if you haven't already done so.
It's also the day to come into the library and learn more about Middle Earth!
Join us for Hobbity activities, riddles, and more!
Bookmark Contest
The library's annual Bookmark Contest will run throughout March. Wichita Falls students in grades K-8 may participate.
This year's catchphrase is: Unlimited Possibilities @ your library!®
Entries are due no later than Monday, March 30th, 2015.
Twenty students will receive a $10 gift card, presented during National Library Week (April 12-18, 2015).
An Evening with René Colato Laínez
Join us in room 205 on Tuesday, March 31st at 6:30pm
for an evening with Salvadoran bilingual children's author, René Colato Laínez.
He will be sharing some of his award-winning picture books.
All ages welcome!